USM - Standard Unsharp Mask
Here is the standard Unsharp Mask plugin for picture sharpening and local contrast enhancement.
The unsharp mask works by creating a slightly blurred version of the original image, which is then subtracted away from the original to detect the presence of edges.
It can also be used (with large radius and small amount) for local constrast enhancement.
Note the filtering is done on the Lab L channel.
Typical parameter values:
Sharpening: radius = 1, amount = 100, threshold = 0
Local contrast enhancement: radius = 60, amount = 20, threshold = 0 >
Tip: both effects can be combined by using two separate layers.
Caution: very large radius values (>100) can sometimes cause tiling image artefacts.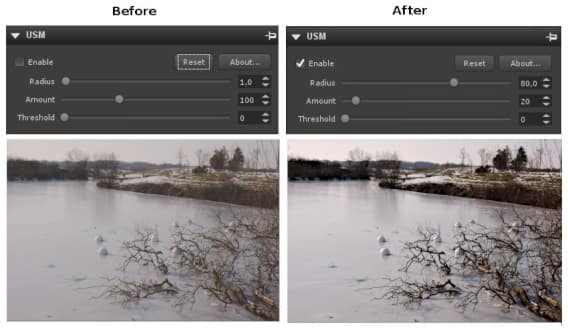 Download this plugin now:
USM-0.6.afzplug (32-bit)
64-bit version not yet available
Plug-in categories
Notice: The plugins shown on this page are not created by Corel Corp and are not tested or warranted by Corel. These plugins are created, sold, and supported by the developers of the individual plugins.