asPluginManager - Manage your installed plugins
With this plugin you can manage your installed plugins. It works by renaming the plugin folders in your AfterShot Pro user home Plugins directory. Activated plugin directories end in *.afplugin, deactivated end in *.afplugin.off.
You can enable and disable your installed plugins by just clicking on the checkboxes. Plugins which are active in ASP (regarding their directory names on startup) are shown in a bold font.
You have to restart ASP of course to obey these changes.
If you want you can make a donation by using the buy link below.
A new mechanism is included since v1.0.4 for other plugins to register in asPluginManager. For supporting plugins it is possible to show and edit their enabled status in asPM. Currently for this to work you may have to change the hotness image up to two times after ASP startup.
Update version check since v1.0.5 for all plugins listed on the Corel plugin site.
Info for other plugin developers how to register in asPluginManager is available here: http://forum.corel.com/EN/viewtopic.php?f=96&t=47074
ATTENTION: Like removing the plugins manually, disabling a plugin here has the following effect: If you change settings for an image with a plugin disabled all settings of that plugin are lost for the image.
Please delete your asPluginmanager.conf file before using v1.1.0
Learn more about asPluginManager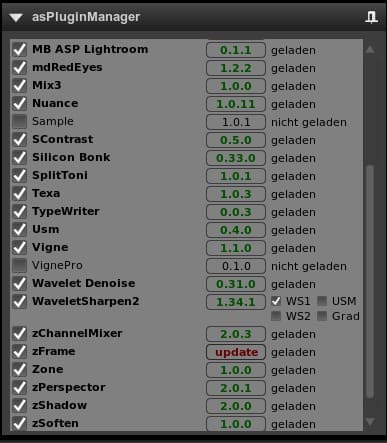 Notice: The plugins shown on this page are not created by Corel Corp and are not tested or warranted by Corel. These plugins are created, sold, and supported by the developers of the individual plugins.